Simplement is SOLELY focused on helping SAP customers get faster, easier and simpler access to their data and enabling end users to create their own data visualisations. Our implementation team can have you up and running within a week.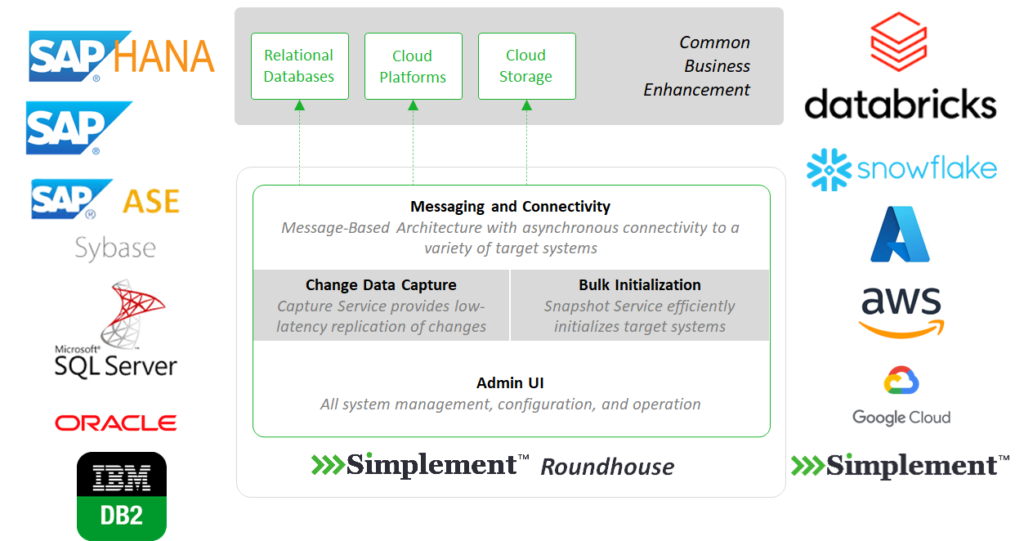 Our newest innovation, Roundhouse™, builds on the success of Data Liberator™ by simplifying integration and data management with its ability to obtain data directly through the SAP application layer. This eliminates the need for access to an organization's SAP databases or database logs.
Roundhouse™ was designed to align with SAP's vision for application integration, earning it the position of being the first and only SAP certified solution in our space—including certifications for compatibility with S/4HANA 2021 and RISE.
Roundhouse™ is able to provide a live data feed that is continuously updated from all SAP sources and transforms difficult-to-read data into a semantic layer to provide an intuitive view. This streamlines custom solutions and reporting within an organization, giving you business answers now from your SAP data.
Accounts Receivable Business Accelerator
Modernize your Accounts Receivable reporting capabilities with Simplement's A/R Solution Template. You don't need to start from scratch as the Simplement A/R Business Accelerator delivers a productive insightful report analyzing your data from SAP.
The product combines ETL and enabled views based on your SAP data and delivers a basic snapshot of high level Accounts Receivable, complete with business logic and basic aging report insight.
Get a fresh look at your Accounts Receivable with a new Microsoft-based Data Visualization and Reporting snapshot. You'll be amazed to see how quickly you can analyze your way to immediate and future revenue with this introductory solution!
Simplement's A/R Business Accelerator is the first step in the journey to insightful productivity and real-time interactive SAP reporting. The Simplement Data Liberator™ is the next step to a truly integrated and robust real-time reporting environment sourced from SAP systems. Learn the two steps to Success – with Simplement.
If you can't access your data, it doesn't do you any good. Now, with The Data Liberator™, you can create powerful SAP reports without using an SAP logon-based connector.
The Data Liberator™ uses a fundamentally different approach—opening up a world of possibilities. Now, you can create a flexible reporting environment at a cost that makes sense for your business.
Some of our customers have saved millions in maintenance and procurement costs by implementing Simplement's Data Liberator™. You can start using the Data Liberator™ incrementally without turning off SAP B/W or your existing reporting systems.